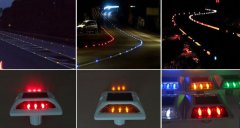 Install the road stud on the road for two years and observe the shell, the reflector surface and internal reflector once half a year and divide the observed result into five grades.

The solar reflective road stud can help the drivers keep away with the agglomerate fog. In some foreign countries, the solar reflective road studs are installed in expressways to warn the drivers about the way ahead to avoid the threat cause

The road studs, which are also called raised pavement markers, can be divided into several types: plastic road studs, cast aluminium road studs, and solar road studs. Wish this scenery line of the city can always be young and beautiful!