An advanced solar warning facility flickers in Songjiang District of Shanghai. It is reported that about 3500
solar road studs
are installed in nine pilot streets like Wencheng Street and Binhu Street, and the total length is 14.76 miles.
That is different with the isolation fences, the solar road studs can not only warn the drivers and pedestrians effectively at night and decrease the happening rate of traffic accidents, but take little space on the ground. If those pilot solar road studs can work effectively, more road safety facilities will be installed in other districts in the future.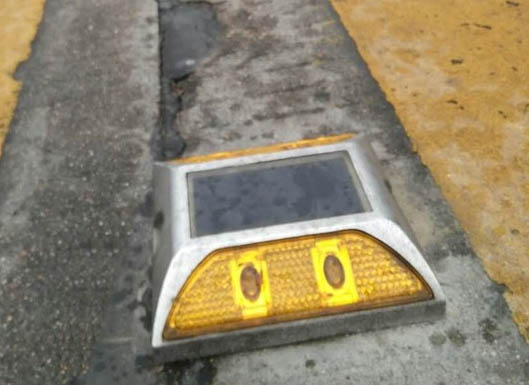 Flickering automatically when there is insufficient light
According to the responsible person of the Traffic Bureau of Songjiang District, those solar road studs are installed in the marked lines or between the double yellow lines, and they use the solar energy that absorbs in the daytime, which can be transformed into electrical energy. The solar road studs can flicker automatically when there is insufficient light at night through the light control and strobe control, which can warn and guide the vehicles at night.

Long service time and maintenance-free
The solar road stud, whose length is 10.4cm, width is 7cm, and height is 3.4cm, has the features of water-proof, long service time and maintenance-free, and it can resist high and low temperature, and heavy crashes.
It is known that the water-proof grade of those solar road studs can be IP168, which means that they can still work effectively in the 100 meters underwater. The pressure resistance of the solar road studs is 20 tons, and the Ni-mh battery can work for more than 3 years.

It is quite convenient and easy to install the solar road studs, which are prior to the isolation fences in the aspects of installation time and installation space, and the harm they brought is only 1/10 of that of the isolation fences.