The solar technology has been applied in China for several decades, which is much more mature than before. The
solar road studs
produced nowadays have high quality, perfect illuminating effect and fashion outlooks than the products produced before.

Solar road studs can be divided into embedded type and raised type in accordance with different installation position.

Read:How to Choose a Good Solar Road Stud?
Embedded type solar road studs are always applied in the center line, while raised type solar road studs are commonly used in the edge lines. This is for than the solar road studs installed in the center line have particularly higher requirements on the pressure resistance. In order to solve this problem, the solar road studs are designed with foot, which is embedded under the ground and only 5mm is left above the road surface. While the requirements of solar road studs used on the edge line on pressure performance is not particularly high, thus they can still work effectively protruding the ground.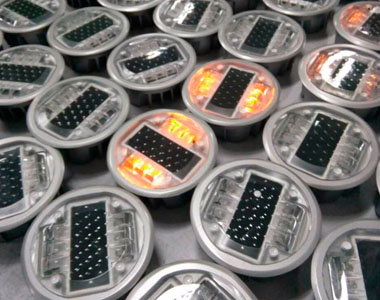 The professional research and development team of NOKIN is always engaged in innovation and providing advance products to the customers. Quality is our core competence, and we concentrate on every detail and to be the best in all aspects. If you have questions about the road stud, please send e-mails to us, and we will give you reply within 24 hours.