The First Intelligent Zebra Crossing Appears in Wuhan---Road Studs will Flashing When People Passing
"A car is coming, please take care."A set of intelligent zebra crossing system is installed in the Linkonggang Avenue of Dong xihu District recently, and it will give pre-warning when vehicles passing, and the road studs on the zebra crossing will flashing when people go across the road. The vehicles will be photoed by the HD video camera if the vehicles cut in the road with pedestrians. It is reported that this is the first intelligent zebra crossing of Wuhan.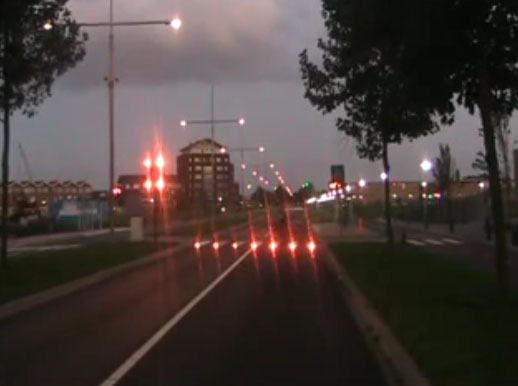 The crossing of the Fifth Ring Square of Linkonggang Avenue in Dong Xihu District locates in the arterial road of Dong xihu District, and the traffic flow of this crossing is not that heavy if compared with other roads with heavy traffic flow, however, there are many pedestrians who want to go across the road and the visibility is not good at night, this crossing become a black-spot. In order to solve this condition, the Traffic Brigade of Dong xihu District sets this intelligent zebra crossing system in this crossing. According to the traffic management department, this system suits the crossing with small traffic flow and without traffic lights.
The head of the Order Division of the Traffic Brigade of the Dong xihu District says that this intelligent zebra crossing combines several intelligent technology like earth induction, video test, flashing road studs, scrolling display and voice prompt. The earth induction will send information to the control system and the voice prompt will warn to pedestrians if a vehicle comes to the places 50 meters ahead them. If the pedestrian or non-motor vehicles go across the road, the video test system will sent information to the flashing road studs through the control system and the road studs will flashing and become a warning light belt.
According to the introduction, once the vehicle with high speed and does not give way to pedestrians who are passing the intelligent zebra crossing, the earth induction system will start up the aerial video probe to obtain evidence, and the traffic police will punish the illegal vehicles according to the evidence. This system is installed in the beginning of this month, and until now, over 20 vehicle cutting in the road are photographed and those pictures will be displayed on the screens of the crossing. The pedestrian will be dragged into blacklist if he/she is photographed to run the red light for 3 times. The video storage device inside the system can not only supervise the illegal behaviors, but provide low basis for the traffic officers.