1. Put security isolation facilities when installing the road stud, which is the priority among priorities and must not be ignored, and in the process of the whole dynamic construction, all the people should be within the safety facilities no matter it is a new road or traffic road. In the construction of traffic road, the ratio of security personnel and installation personnel should be 1:1 and 1:3 in the road not open to traffic.
2. Determine the installation position and ensure the smooth of installation location. Smooth the road surface of scalable, cracks or uneven in advance.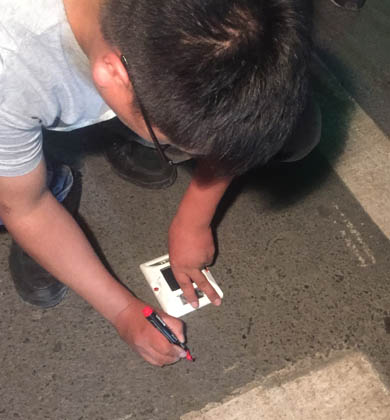 3. Clean the installation location with a brush, and ensure the drying of installation position at the same time.
4. Smear the road stud evenly with adequate amount of glue.
5. Press the road stud tightly in the installation position in the right direction. If the glue is too much, it must be cleaned up.
6. For cast aluminum road stud with foot screws, ensure that the hole depth is 1cm greater than the depth of foot screw and the hole diameter should be 2mm greater than the diameter of foot screw.
7. Make an inspection within two hours after installation of road stud, ensure that all of the road studs are not installed oppositely or askew.
8. Remove the isolation facilities after solidification of road stud for 4 hours.
Though the installation of road stud is not complicated, there are many details need to be noticed. These details play an important role to guarantee the quality and service life of the road stud. The solar road stud and solar road markers of NOKIN have won praise from clients all over the world. If you are interested in the products and technology of NOKIN, you can send e-mails to us to ask for catalog, and we will reply you in detail as soon as possible.