For the traffic safety facilities are widely used in our daily life, many kinds of road studs are produced to meet all the clients' unique needs. The
road stud
can be classified into several types according to its material, such as the
plastic road stud
, the cast
aluminium road stud
, glass road stud, and so on. Today, something about the glass road stud will be introduced. The glass road stud, which is also called the cat eye reflective road stud, is composed by two glass hemispheres with different diameters. The hemisphere part is above the road surface, so it can absorb light in all directions. It has the same reflective effect within the scope of 360°.
Being grinded and polished, the glass is with high surface finish. The glass road stud has good abrasive resistance, so the service time of it will be longer than others. Usually the glass road stud shapes hemisphere, the cars can pass it smoothly with any great jolt. For it can reflect light at any angle, it can be installed in the areas with sharp turns. The glass road stud can also be installed in channel where the visual distance is not good, and it can guide the drivers to pass the channel safely. Some people may doubt that the glass is easy to broken, and it may hurt the cars driving on it. Because the glass used to make the road stud is specially treated, it has good pressure resistance. Being treated with water-proof method, the glass road stud can also work effectively in rainy days. The glass road stud can satisfy the needs of people living in different areas.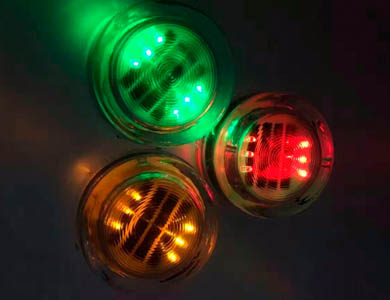 The 360 degree glass road stud is a star product of NOKIN TRAFFIC FACILITY, who aims to provide the products with high-quality and good after-sale service. The products of solar reflective road stud, amber road stud, solar traffic signs, and the integrated traffic light produced by NOKIN win praise of customers all over the world. The ODM service is provided to the clients, and they can also give us drawings and finished products as samples. NOKIN welcomes all kinds of consultation and feedback.